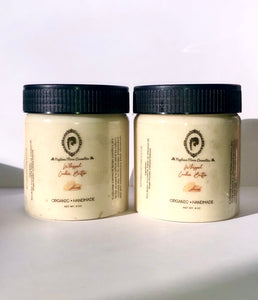 Ingredients: Shea Butter, Coconut oil, Castor oil, Cinnamon Oil, Ginger Powder, Colloidal Oatmeal Powder.
Great for dry skin.
Colloidal Oatmeal helps soothes dry itchy skin and is often used to relieve eczema due to its unique antioxidant and anti inflammatory plant chemicals.
Ginger helps to sooth irritated skin.
Cinnamon oil helps reduce the signs of aging and stimulates blood flow.
High concentrations of fatty acids and vitamins make shea butter an ideal cosmetic ingredient for softening skin. Shea butter also has anti-inflammatory and healing properties. Using shea butter on your body, especially your face, can condition, tone, and soothe your skin
Cookie Scented. Smells Yummy !
Net Wt 8oz