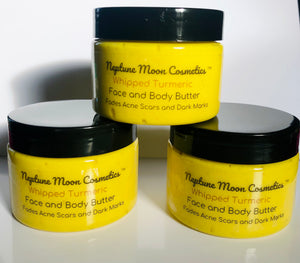 Turmeric is an ancient remedy used to help combat acne, acne scarring, and dark marks. Turmeric's natural anti-inflammatory and antibacterial properties remove unwanted dirt and oil from the skin while fading dark marks and scaring. This face and body butter also helps treat uneven skin tone and restore the skin's natural "glow".
High concentrations of fatty acids and

vitamins

make shea butter an ideal cosmetic ingredient for softening skin. Shea butter also has anti-inflammatory and healing properties. Using shea butter on your body, especially your face, can condition, tone, and soothe your skin
Ingredients:
Shea Butter, Turmeric Powder, Carrot Oil, Coconut Oil, Castor Oil, Lemon Essential Oil.
Light Lemon Scent
4oz Plastic Jar
Lemon essential oil assist in treating and fighting acne.
Castor oil will aide with moisture and helps fight acne causing bacteria.
Carrot oil soothes rashes, tones skin, and removes wrinkles.
Please note this product was created to tone and moisture the skin, lighten dark marks and acne scars. Some ingredients listed are known to slightly lighten skin.
Please read ingredients thoroughly before purchasing.
This is NOT a "bleaching" or "whitening" product.
All ingredients are organic.